COVID-19 Information
Community Health Group (CHG) is committed to supporting our members and providers in adopting the most up-to-date recommendations for COVID-19.
Signs and Symptoms of COVID-19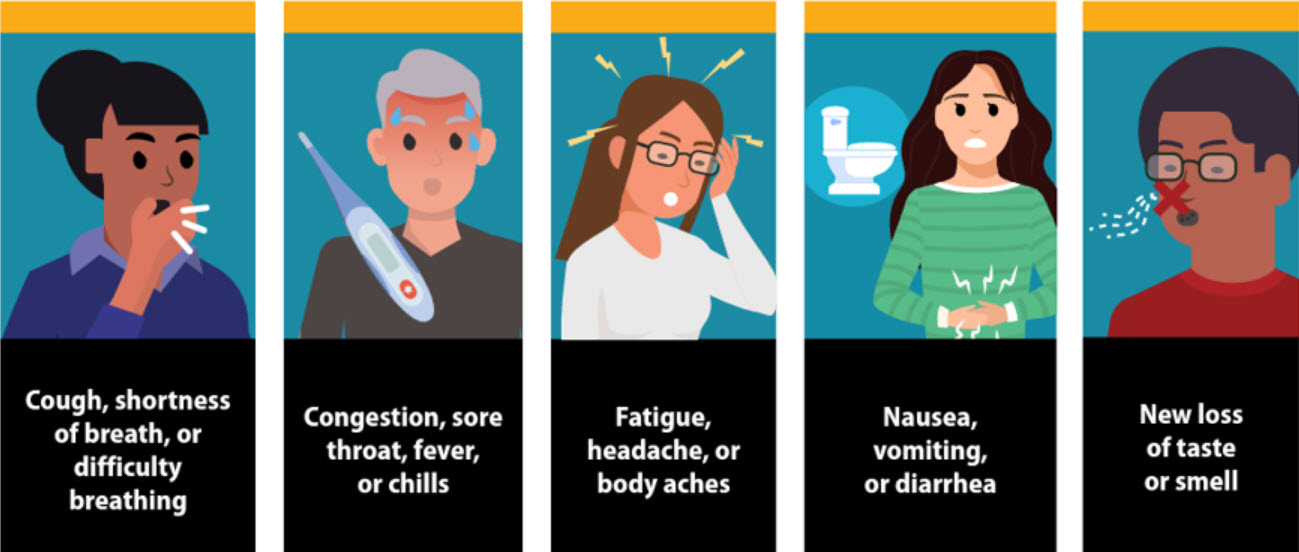 *For more information, visit the Centers for Disease Control and Prevention (CDC) website: https://www.cdc.gov/coronavirus/2019-ncov/symptoms-testing/symptoms.html
If you experience any of these symptoms, get tested for COVID-19.
COVID-19 Testing:
Order free at-home tests: https://www.covid.gov/tests

Need help placing an order for your at-home tests? Call 1-800-232-0233 (TTY 1-888-720-7489).

Free at-home tests from your providers or pharmacies can bill Medi-Cal Rx.
Search for no-cost COVID-19 testing locations: https://testinglocator.cdc.gov/Search
Do you need transportation to get a test, vaccine, or other treatment? Call CHG at 1-800-224-7766/ TTY 1-855-266-4584 to set up transportation.
Testing is recommended if you have symptoms or if you were exposed to COVID-19 and do not have symptoms. Wait at least 5 full days after exposure before testing. You do not need to wait to test if you already have symptoms.
What to do if you test positive for COVID-19:
Isolate and wear a high-quality mask to protect others from infection.
Tell people you have been in contact with someone and that they may be exposed.
If you have any warning signs (see above), seek emergency care immediately.
It is important to begin treatment as soon as possible after testing positive for COVID-19.
Learn about treatment options by:

Calling your doctor or clinic to learn if you should get treatment.
Calling CHG's Telephone Advice Nurse (TAN) line at 1-800-647-6966
Visiting urgent care either in-person or telehealth within 24 hours.
Finding an urgent care: https://providerdirectory.chgsd.com/SearchDirectoryUrg.aspx
Calling your pharmacy to see what treatment they offer.
Calling CHG's Member Services for help at 1-800-224-7766/ TTY 1-855-266-4584. A Member Services staff member will be happy to assist you.
COVID-19 Medications:
The right medications for COVID-19 can help.
Most treatments must be started within 5-7 days of testing positive.